153993
David Attenborough: A Life On Our Planet
Synopsis
One man has seen more of the natural world than any other. This unique feature documentary is his witness statement.
In his 94 years, David Attenborough has visited every continent on the globe, exploring the wild places of our planet and documenting the living world in all its variety and wonder. Now, for the first time he reflects upon both the defining moments of his lifetime as a naturalist and the devastating changes he has seen.
Honest, revealing and urgent, DAVID ATTENBOROUGH: A LIFE ON OUR PLANET is a powerful first-hand account of humanity's impact on nature and a message of hope for future generations.
Film Credits
Director:
Jonathan Hughes
Keith Scholey
Alastair Fothergill
More Information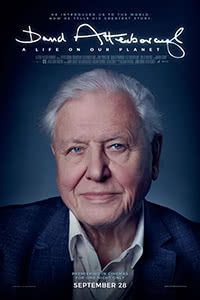 Rating:
PG
Parential Guidance
PG or Parental Guidance means that films and games with a PG label can be sold, hired or shown to anyone. This means unaccompanied tamariki can watch. However the label indicates that some scenes may upset younger or more sensitive tamariki and it pays to check before they watch or play.
Advisory:
scenes of animal injury
Country:
United Kingdom, United States
Released:
28 September 2020
David Attenborough: A Life On Our Planet